While not the most common error we see here (that would be
poor soldering quality
, as Stephen will cheerfully point out!), the following problem description, or something very similar to it, comes up very frequently:
"My pedal works fine with a 9V battery, but won't work with a wall wart/external power supply. The LED doesn't even light up."
This good news is that (1) this problem is almost always caused by a simple wiring mistake, and (2) it is very easily fixed.
The problem arises when the connections for the positive wire of the battery snap and the positive wire to the PCB are switched on the DC jack. It might seem like the two positive connection tabs (the ring and sleeve) of the DC jack would be interchangeable....but they're not. The ring tab (the battery + connection) has a mechanical disconnect inside the DC jack that can deflect and break the connection with the sleeve of the jack, which is what is actually soldered to the PCB + power connection. When a power adapter plug is inserted into the DC jack, the ring tab deflects and disconnects the battery, thereby saving battery life when an external power adapter is being used.
While this is a useful feature, if the two + connections on the DC jack are wired backwards, when an adapter plug is inserted into the jack, it disconnects

itself

!

Take a careful look at the following diagram, which shows the correct wire connections for the DC jack. Note the spatial orientation of the two positive solder tabs--the ring (battery +) tab is
closer
to the tip (ground connection) tab than the sleeve (adapter +) tab. While this diagram shows the newer style BYOC PCB with the power connections directly to the board, the same rules hold true for the older style, where the DC jack tip (ground) connection is to the ring of the input jack, and the + battery lead connects directly to the ring tab of the DC jack.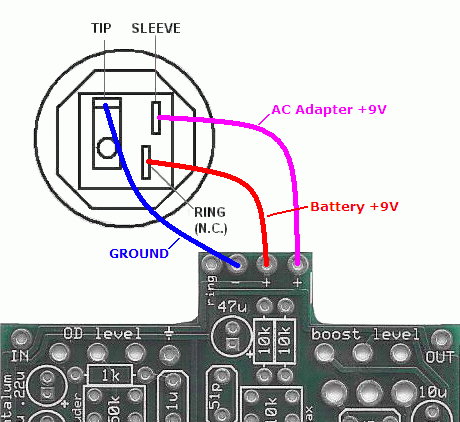 _________________
"My favorite programming language is SOLDER" - Bob Pease (RIP)
My Website
*
My Musical Gear
* My DIY Pedals:
Pg.1
-
Pg.2